Garbage disposals for dishwashers, farmhouse sinks, and septic tanks
This page is part of the Garbage Disposal Guide.
Sometimes you can't purchase just any old garbage disposal and install it under your kitchen sink. Situations in which you should consider special types of garbage disposals are when: you have a septic tank, a deep or farmhouse kitchen sink, or when you want to connect your dishwasher to the waste disposal as well.
In case you are looking for different types of garbage disposal systems, for instance, the different options for motors, mounts, and feeds. We also have a page about that, which you can explore here.
---
1. Waste disposal for dishwashers
Yes, it is possible to connect a dishwasher to your garbage disposal if the disposal unit has a connection for the dishwasher hose. But first, why would you want to connect your dishwasher to your food waste processor?
A dishwasher cleans your dirty dishes, cutlery, pots, and pans. And in this cleaning process, a lot of food waste is flushed down the drain. To prevent clogging of your drain pipes it is a good idea to grind the food waste with a food waste disposal. By connecting the disposal to your dishwasher the discarded wastewater goes through the garbage disposal and gets ground up before it is flushed away. Moreover, it is more convenient and space-efficient to connect your dishwasher hose to the garbage disposal instead of using all kinds of drain connector parts to bypass the disposal unit. Most garbage disposals today do have a dishwasher inlet but not all of them. So, especially, if you are looking for a budget-friendly disposal and you want to connect it to your dishwasher, don't forget to make sure that that waste disposal has the necessary inlet.
Read more about connecting a dishwasher to a garbage disposal. Or find your dishwasher connector kit.
2. Waste disposal for a septic system or septic tank
Can you use a garbage disposal if you have a septic system instead of the regular sewer system? A septic tank is a watertight tank that stores domestic sanitary wastewater underground and is most commonly used in areas where there are no connected sewerage systems. If your wastewater is stored in a septic tank it isn't recommended to use just any normal garbage disposal unit. Why is that?
Want to know more? Check out our advice on garbage disposals for septic tanks.
3. Garbage disposal for a deep farmhouse sinks
If you have a deep sink farmhouse sink in your kitchen it can be difficult to find a garbage disposal that fits in the limited cabinet space. Deep sinks or farmhouse sinks take up a lot of the cabinet space already so you need a compact garbage disposal that isn't very tall.
So how tall or short does the disposal need to be? A garbage disposal (including the mount) should not be taller than the space between the lowest part of your sink and the floor of your kitchen cabinet, plus about 4 inches of clearance. This is so the disposal can be installed easily and so you can reach the bottom of the waste disposal system in case you need to unclog is manually with an Allen wrench later on.
So which garbage disposal will fit under your classic farmhouse sink? Check out our top 10 garbage disposals for home, where we recommend the compact InSinkErator Evolution Compact.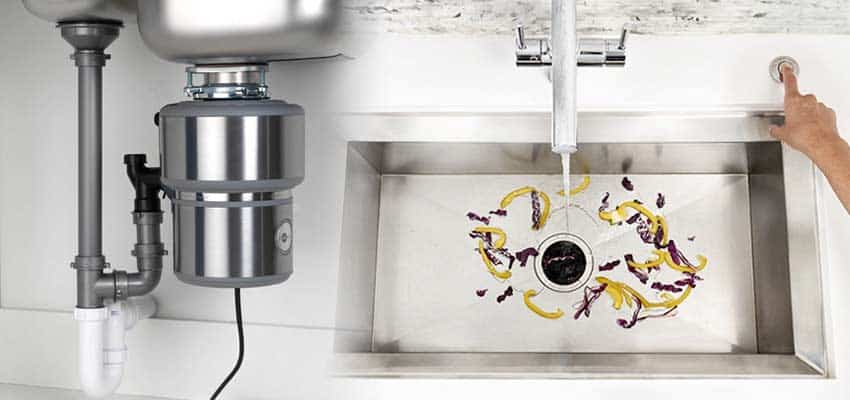 ---
What type of garbage disposal do most people buy?
Don't need a special waste disposal system after all? Most people buy a continuous feed garbage disposal that produces 3/4 to 1 HP, check our recommendations for powerful food waste disposals here. These types of high-powered waste disposals can handle most food waste and can be used for medium to heavy use for an average household. The garbage disposals from InSinkErator and Waste King are very popular, because of the quality and ease of installation. Also, people tend to buy disposals which can be connected to a dishwasher, since most people use a dishwasher in their kitchen. See our comparison between Waste King and InSinkErator disposers here.
Want to see which garbage disposals are best sellers at Amazon? Check out this link to see Amazon's best sellers.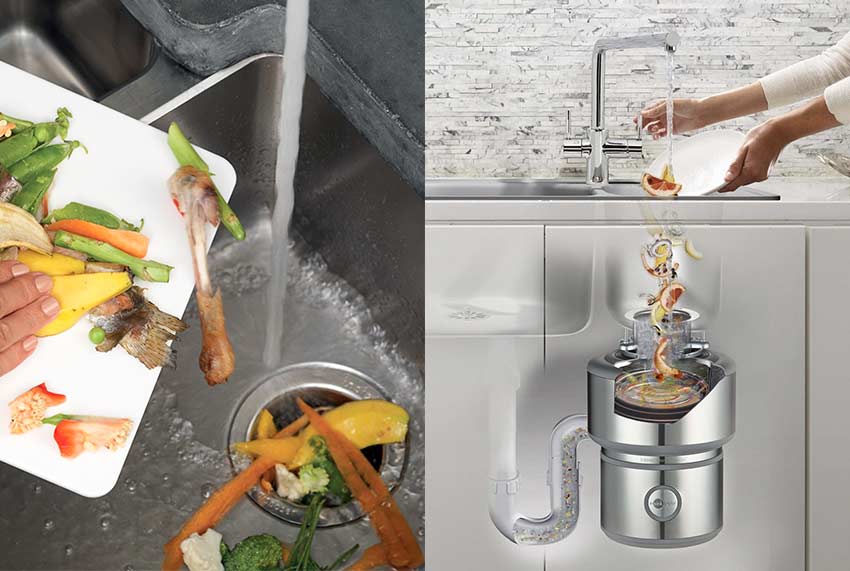 ---
Garbage Disposal Guide
Tips for buying a garbage disposal
Garbage Disposal Guide