Types of garbage disposals
This page is part of the Garbage Disposal Guide.
Before buying a garbage disposal there are three characteristics you should make a choice on, which will define the type of disposal you will opt for. These characteristics include:
In case you are looking for special types of garbage disposals, for instance, disposals for farmhouse sinks, septic tanks or dishwashers. We also have a page about that which you can find here.
Garbage disposals for Septic tanks
---
1. Induction motor or permanent magnet motor
What is an induction motor?
An induction motor is a high-speed electrical motor that is commonly used in InSinkErator and Kitchen Aid food waste disposals. The induction motor creates a constant flux through a physical connection to the rotor. Reaching the motors maximum RPM takes a longer in comparison to a permanent magnet (PM) motor and maximum speed tends to be slower than that of PM motors. Generally speaking, the induction motor tends to be heavier too, but unlike PM motors, induction motors can have multiple grinding stages to make up for it.
What is a permanent magnet motor?
A permanent magnet motor is an electric motor that uses permanent magnets, hence the name. These motors are more efficient than induction motors. Because of the magnets, the motor produces a consistent and instantaneous motor flux. This means the motor instantly runs at maximum speed, so all the power is directly available. For a garbage disposal this is very convenient, especially when the chamber contains fibrous or large quantities of food waste. For bathed feed garbage disposals, a permanent magnet motor is preferable, because this type of waste disposals grinds up food waste in batches and thus needs the immediate power of the motor. Another advantage of a permanent magnet motor is that the unit is smaller and thus lighter. Also, it tends to clog up less often than induction motors.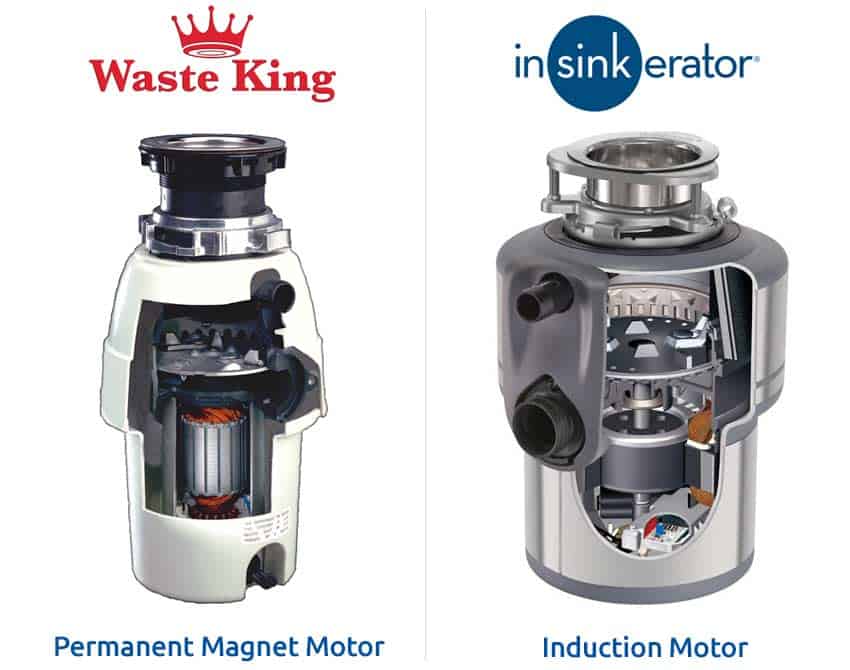 Currently, the two leading brands for garbage disposals are Waste King and InSinkErator. Waste King uses permanent magnet motors in their disposals and InSinkErator uses induction motors. If you would like to know more but the differences between the two brands, and which one is better, you may want to read our more extensive blog post on the topic.
Waste-King vs Insinkerator review
---
2. Continuous feed & batch feed
There are two types of garbage disposal systems, continuous feed and batch feed. So, what are the differences and the pros and cons of these two types? And which one suits your needs best?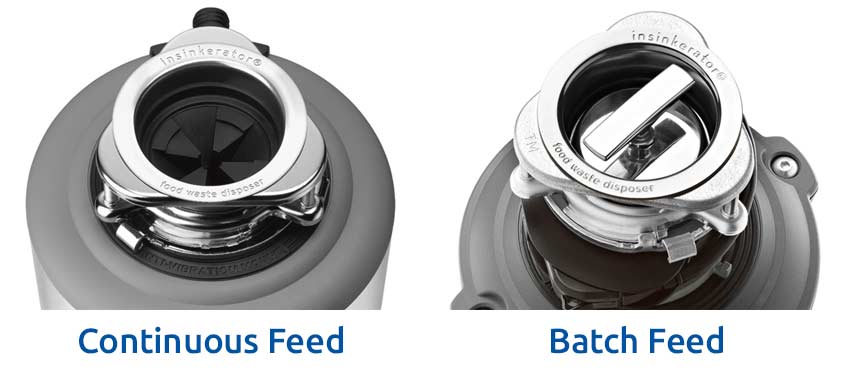 What is continuous feed?
The food waste incinerator keeps running as long as you want. This is especially convenient when you are cleaning the kitchen and continuously want to dispose of food scraps during the cleaning process.
A continuous feed is less expensive to buy in comparison with a batch feed incinerator.
You need to run water when processing and washing away the food scraps. On average you use around one gallon of water per day.
You can feed food waste into the food disposer while it is running. Therefore, it is recommended to be careful and never put hands or fingers inside the machine.
---
How to use a continuous feed garbage disposer?
---
What is batch feed?
Load up the unit and close the sink flange before you grind up the food waste. The motor can only be started when the cover is placed into the sink opening. (don't overload the machine).
It will only run if the drain opening is closed, this is called 'covered operation'. This way you can't feed more food waste while the disposal unit is grinding. But this makes operation safer, especially for children.
Because of this, the batch feed disposal unit requires a stronger engine in comparison with a continuous feed food waste disposer, and therefore also tends to be more expensive.
Grinding your food waste takes more time because it is meant for grinding smaller amounts of food waste.
---
How to use a batch feed garbage disposer?
---
3. Metal mount or plastic mount
When you want to purchase a durable food disposal it is recommended to opt for a metal mounting system rather than a plastic mount. This mount is what connects your garbage disposal to the kitchen sink. Generally, the higher powered food waste disposers are quite heavy so a metal mount will offer more durability but also stability. Plastic mounts are known to be less stable. This instability allows for more intense vibrations which makes your disposal noisier but also more prone to wear and tear in a shorter period of time.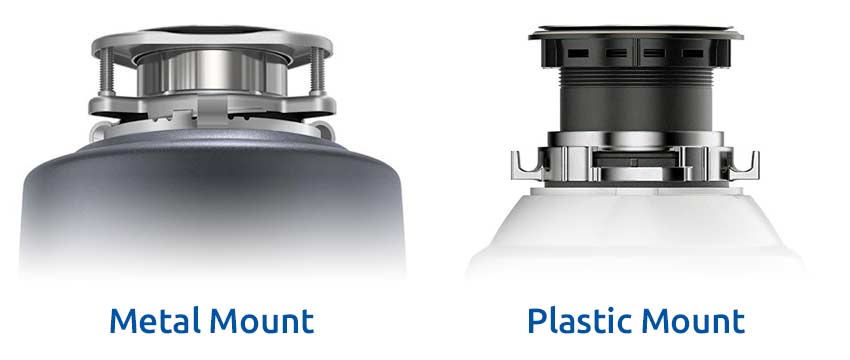 ---
What type of garbage disposal do most people buy?
Most people buy a continuous feed garbage disposal that produces 3/4 to 1 HP, check our recommendations for powerful food waste disposals here. These types of high-powered waste disposals can handle most food waste and can be used for medium to heavy use for an average household. The garbage disposals from InSinkErator and Waste King are very popular, because of the quality and ease of installation. Also, people tend to buy disposals which can be connected to a dishwasher, since most people use a dishwasher in their kitchen. See our comparison between Waste King and InSinkerator disposers here.
Want to see which garbage disposals are best sellers at Amazon? Check out this link to see Amazon's best sellers.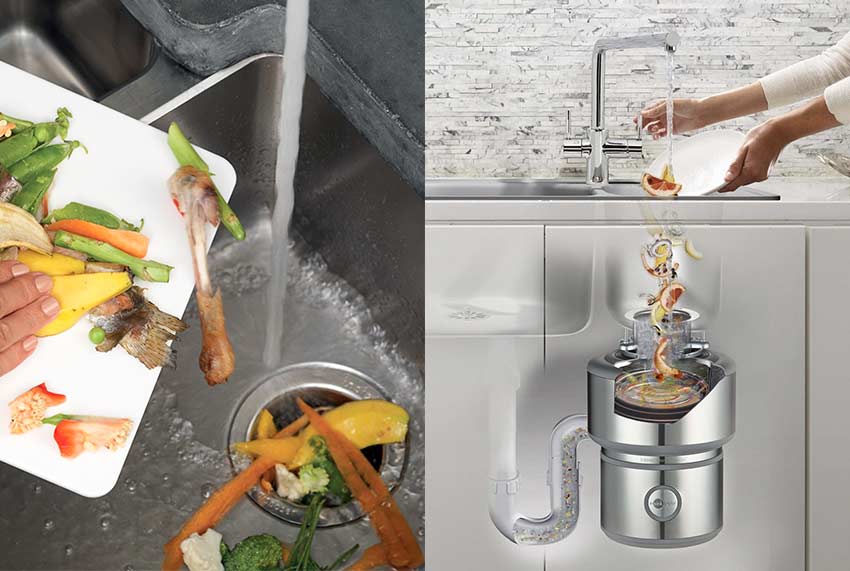 ---
Garbage Disposal Guide
Tips for buying a garbage disposal
Garbage Disposal Guide