Garbage disposal maintenance and troubleshooting
This page is part of the Garbage Disposal Guide.
After using a garbage disposal for soon time it might become dirty and even a bit smelly. Bad odors are caused by bacteria from food waste residues which forms inside the sink opening and in the garbage disposal. How can you clean a kitchen garbage disposal and how often does this need to be done?
Manufacturer maintenance advise
According to Waste King, a manufacturer of garbage disposals, it isn't necessary to clean your disposer. The disposer is a self-cleaning device that cleans the internal parts with each use.
But what if you really want to clean the disposal and the drain? What are some tips you can follow? Below are some official tips and recommendations from InSinkErator, also a manufacturer of disposers.
Lemons – Neutralize bad odors by grinding citrus fruit. Put some slices inside the disposal, run some cold water and start grinding. The lemon helps to clean the inside of the disposer and releases a fresh smell.
Clean the baffle – The baffle is the part that sits inside the sink opening, it is also called a splash guard. This rubber part can become really dirty and smelly as well. So it is recommended to clean this part regularly with some hot water and dish soap.
Ice cubes – You can use ice cubes to clean the components inside the grinding chamber of the garbage disposal. It is a misconception that ice will sharpen the blades of the garbage disposal because disposers don't contain blades but a rotating grinding plate with impellers.
There are also different kinds of cleaning agents and cleaning tools specifically for cleaning your garbage disposal at home.
More ways to clean a smelly garbage disposal
Have you already tried lemons, baffle and ice cubes? There may still be hope for your disposal. This helpful page from Compact Appliance mentions 9 ways to clean a smelly garbage disposal. We especially like method 3 and 6 mentioned on this page as they are out of the box or slightly more aggressive methods.
---
Troubleshooting a garbage disposal
As nearly all house appliances, garbage disposals have been known to have problems and small malfunctions ever so often. These problems are more likely to occur on more frequent bases with low power devices, but this can also happen to high power garbage disposals, especially when they are used incorrectly.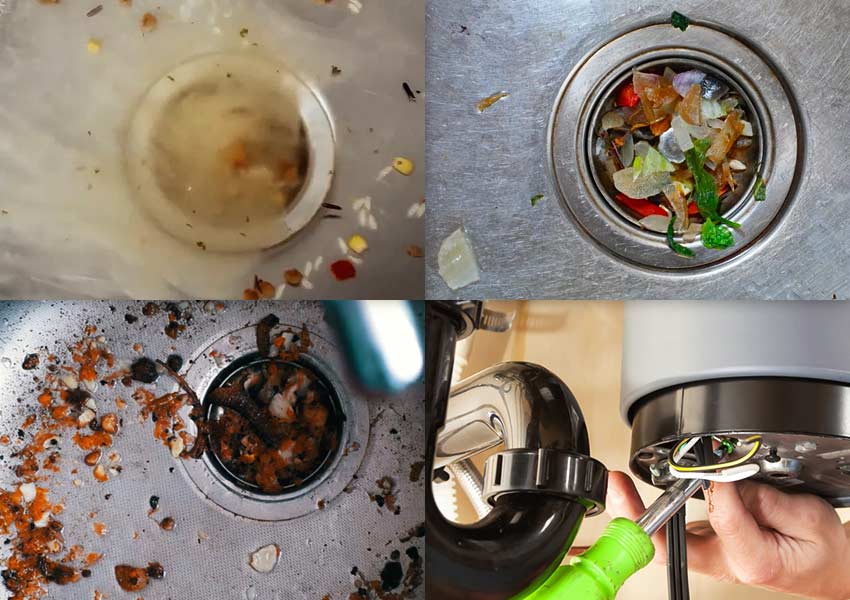 Some of the common problems include clogging, leaks, no power in the disposal, strange noises and jams. These following links may help you with fixing your disposal as that explains, in several steps, how to fix some of the common problems. Please proceed to fix your disposal with caution and do not ever put your hands in it.
Video: How to Fix a Garbage Disposal | The Home Depot
This video covers basic guidelines to follow when you are trying to fix your disposal, addresses two types of problems you may be having and finally gives advice on how to maintain and clean your disposal.
Helpful guides:
---
Replacing your garbage disposal
Unfortunately, most garbage disposals don't last forever. If your garbage disposal clogs constantly, has bad smells you can't get rid of or is not turning on at all, it may be time to get a new one.
A common question when it comes to installing or replacing a garbage disposal is: do you need to hire a plumber to do this? The short answer is if you are a little handy, it is possible to do it yourself, but hiring a plumber is also a good option when you are worried about doing something wrong. We talk about this more on our page about garbage disposal installation.
Video: How to Replace a Garbage Disposal | The Home Depot
This video examples some of the basics concerning garbage disposals but at around 1 minute and 30 seconds, it starts to explain how to remove and replace and old garbage disposal with a new one.
---
Garbage Disposal Guide
Tips for buying a garbage disposal
Garbage Disposal Guide