Cost Of A Pallet Jack Scale
What Is The Price Of A Pallet Jack with Scale?
Updated on Oct. 19, 2021 | Author: Diana Tran
Looking for the cost of a pallet jack scale? Then you are coming to the right place. Let's face it, looking for the estimated price is often quite a stressful task. But don't let this discourage you. We got your back and did the work for you. We've outlined the pros and cons as well as what to look for before you buy a pallet jack scale to make the choice easier for you. Now, here's the money question – how much does a pallet jack scale cost?
Generally speaking, prices start from $300 and can rise to $15,000, depending on which types of pallet trucks you are looking for. To give you an idea of how much each of these models costs, please see our pricing guide below.
---
Table Of Content
---
Pricing Guide for Pallet Jacks with Scale
First thing that comes to mind when we consider buying a pallet jack scale is how much it will cost. Furthermore, it is a costly purchase – we get you! Whether you are looking for the cheapest pallet jack scale, a heavy-duty option, or a low-cost used pallet truck,  we are here to help you find the right one for your warehouse.
Generally speaking, a used pallet jack scale is cheaper than a new one. But it requires more maintenance. Nevertheless, an used industrial truck doesn't mean that it is always cheaper because it could incure higher annual costs.
To give you a better idea of what you can expect, below you can find a list of the estimated costs of the different types.
Manual Hand Pallet Jack Scale
Thinking of a manual pallet jack scale? Here are approximate rates:
Cost new industrial truck: from $329
Cost used industrial truck: average $150
---
Electric Pallet Jack with Scale
Want to buy an electric pallet jack scale? Here are approximate rates:
Cost new industrial truck: from $2,600
Cost used industrial truck: average $1,800
---
Pallet Jack with Weighing Scale
Planning to buy a pallet jack with a weighing scale? Here are approximate rates:
Cost new industrial truck : from $1,350
Cost used industrial truck: average $950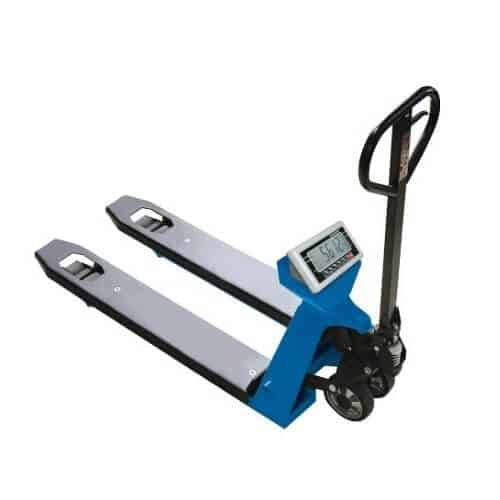 ---
Pallet Truck with Operator Stand
Are you looking for a pallet truck with operator stand? Here are approximate rates:
Cost new industrial truck: from $14,500
Cost used industrial truck: average $12,500
---
Disclaimer: Keep in mind that these prices are estimates of a pallet jack scale. The cost could be sold from cheap to expensive, depending on the capacity and hours.
---

---

Pros & Cons: New vs. a Used Pallet Truck
New Pallet Jack Scale
longer warranty: months
lower shipping costs: local freight from the seller to your location
the newer the equipment, the lower the hours
higher price
production of the pallet jack could take a few months
Used Pallet Jack Scale
price is lower than a new pallet jack
delivery may be faster within few days
higher maintenance costs
shorter warranty: weeks or no warranty
lesser quality, since it is used
---
What you can use a pallet jack scale for
Hard to believe, but this truck is incredibly helpful in the industrial and commercial sectors. A pallet jack scale is a tool to lift and carry around heavy goods, which is well adapted to warehouses. Keep in mind that a standard pallet jack scale has a lifting capacity of approx. 5,500 lbs.
Back to your main question: What can you use the industrial trucks for? Tell you what, this tool lift can be used ideal for your vertical- and horizontal baler. You can gather more information about the balers in our articles below:
---
What To Look for When Buying A Pallet Jack Scale?
Buying a pallet jack scale is not an easy decision and can be overwhelmed. We got it! Now, that you know the range of prices, we have to tell you that the price is not the only consideration when buying a pallet jack scale. Important criteria are the performance data such as lifting height, load capacity, speed as well as how easy it is to roll around the pallet truck. With that in mind, we suggest you compare these factors before making a final decision.
Lenght and width
Yes, the length does impact your decision. You don't want to purchase the wrong one, which is by the end too short or too long. This can affect what your pallet jack scale can carry or not. The most common size is 27×48.
Weight
Also, take into account the weight of the industrial truck. At this point, it should be mentioned that the weight is in combination with the pallet truck and the weight of the pallet. Therefore, you should note the combined weight of your pallets and pallet truck can be carried by the surfaces. Otherwise, you can damage something during transport.
Capacity
Remember that not all pallet trucks have the same capacity. Typically, they can range from 4,500 lbs to 5,500 lbs. Heavy Duty Models have a larger capacity and accordingly, they have a capacity of more than 5,500 lbs. A lower capacity can cause safety problems and damage your products.
---
Tip: Too expensive? Did you know that there are other financing concepts besides the purchase of a pallet truck? Gather the information about the pros and cons, as well as an accurate price with our expert.
Renting Or Leasing
A Pallet Truck
Advice And Accurate Price
Our team helps hundreds of businesses worldwide find the right recycling machine every month.
---
Maintenance Cost
Money, money, money – In addition to the acquisition costs, these costs must also be taken into account:
Service Cost: Higher investment costs can be amortized more quickly since the pallet jack offers a higher benefit through better technology. The impact of a defective pallet truck could lead to a standstill, or trucks can not be loaded or unloaded. This can lead to a high repair cost!
Energy Cost: The cost is based on the current energy price, how often you use the machine, and which model you buy.
Personal Cost: Another aspect is the personal cost, who needs to operate the machine.
The good thing is, that there is no driver's license cost necessary to operate a pallet truck.
---
What Are You Waiting for? Give Your Brain A Break And Let Us Help You.