Best Quiet Garbage Disposals
This page is part of the Garbage Disposal Guide.
Disclosure: This article contains affiliate links. If you click on a product and make a purchase, we may earn a commission – learn more.
Grind Your Food Waste Quietly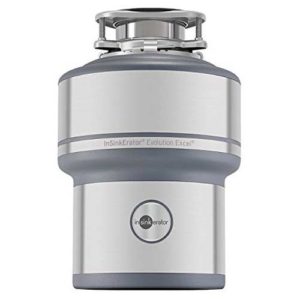 Does your old garbage disposal make a lot of noise? And are you tired of your loud garbage disposal disrupting the peace and quiet in your home, or simply looking for a modern disposal that will complement the atmosphere in your kitchen? Then this article will help you make an informed choice.
Best Sellers:
Quiet garbage disposals should feature a metal mount and insulation to minimize vibrations.
A common consumer complaint about their garbage disposals is that the machine makes a lot of noise during use. On average a garbage disposal makes 80 dB of noise when it grinds up your food scraps, which is less noise than a food blender. The noise complaint is so common because noise levels are often forgotten or deemed not important due to lack of information on it during the research phase of buying a food waste disposer. However, many users end up finding this characteristic (noise level) extremely important once the machine is installed and used. So, if you are someone that gets annoyed by noisy kitchen appliances or even woken up by your children or partner turning on something like a vacuum cleaner or blender in the mornings, then we recommend purchasing a sound-proof garbage disposal.
---
Top 5 Quietest Garbage Disposals
Updated for 2020
Below you can find a selection of our 5 favorite quiet garbage disposals with low noise levels of around 25 – 50 decibels during use. Of course, these are not the only quiet garbage disposals available, but these ones have received many positive consumer reviews on Amazon and Walmart. If you want to know more about what makes a disposal quiet and find out the pros and cons of a quiet disposal before you start shopping for one, then check out our guide at the bottom of the page.
---
Best 1HP & quiet garbage disposal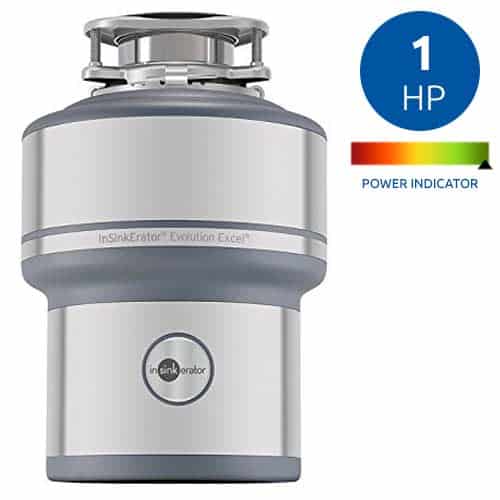 The InSinkErator Evolution Excel is the overall best quiet continuous feed garbage disposal. It is described as ultra-quiet and features advanced SoundSeal technology. The machine is quick and easy to install with a metal EZ mount inside your kitchen cabinet. The noise level it produces can be compared to that of a refrigerator. The Evolution Excel also features a 1HP engine meaning it can grind up pretty much any type of food waste.
Feed type: Continuous feed
Horse power: 1 HP
Speed: 1725 RPM
Weight: 25.5 pounds
Warranty: 7-year
---
Best garbage disposal with permanent magnet motor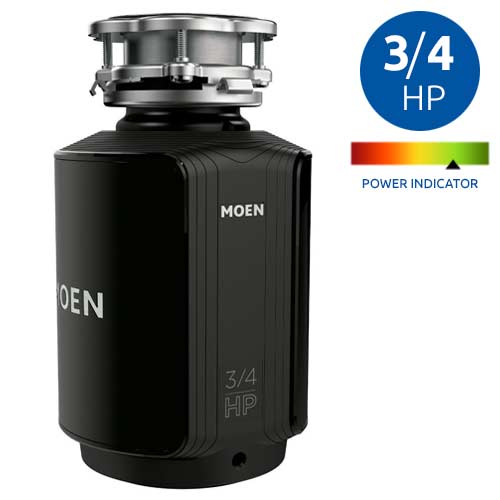 The Moen GXS75C GX Series is the best quiet garbage disposal with a permanent magnetic motor and is relatively affordable too. The permanent magnet motor has the advantage of starting up at its maximum speed, making it less likely to jam. It also features SoundShield technology which reduces the noise to the volume of an everyday conversation.
Feed type: Continuous feed
Horse power: 3/4 HP
Speed: 2700 RPM
Weight: 7.75 pounds
Warranty: 5-year
---
Best garbage disposal for septic systems
The InSinkErator Evolution Septic Assit is the best quiet garbage disposal that is compatible with homes that have a septic system as it feature the possible of inserting cartridge with bacteria that help preserve the equilibrium in the septic tank. This InSinkErator garbage disposal also features SoundSeal technology which is able to reduce the volume to that of a normal conversation.
Feed type: Continuous feed
Horse power: 3/4 HP
Speed: 1725 RPM
Weight: 22.6 pounds
Warranty: 4-year
---
Best batched feed garbage disposal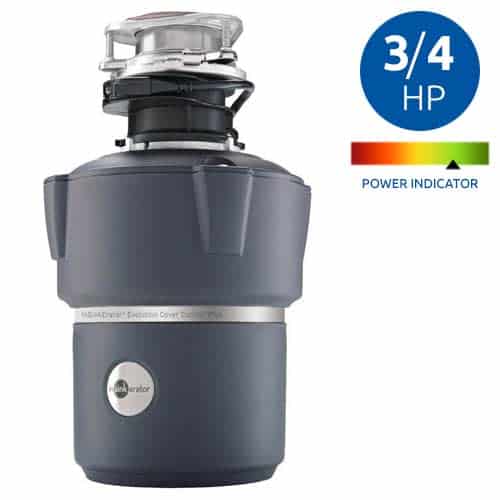 The InSinkErator Cover Control Plus Evolution is the best extremely quiet batched feed garbage disposal. It is an ideal disposer for households with small children. This InSinkErator disposal also features SoundSeal technology which reduces the volume to the extent where is resembles the hum of an old refrigerator.
Feed type: Batched feed
Horse power: 3/4 HP
Speed: 1725 RPM
Weight: 22.4 pounds
Warranty: 7-year
---
Best budget garbage disposal that is low powered and light weight
The Waste King 9910 is the best quiet budget garbage disposal for homes that require only a low 1/3 HP continuous feed disposal. With this motor you can only grind up softer food waste. It does not feature any insolation technology, but the low powered motor does not create a lot of noise. The volume of the noise it makes can be compared to passing cars in the distance. Ultimately, this simplistic, light-weight and cheap disposal is the quietest in its class.
Feed type: Continuous feed
Horse power: 1/3 HP
Speed: 1900 RPM
Weight: 8.6 pounds
Warranty: 2-year
---
What makes a garbage disposal quiet?
So why is it that some disposals are noisier than others? The main source of avoidable noise that a disposal produces are vibrations. There are serval characteristics of a garbage disposal that contribute the noise level that it produces while in use, these include:
mount material
build quality
insulation technology
continuous vs batched feed
and the power of the motor.
Video: InSinkErator Garbage Disposal Myths – It's Loud

When sound is a concern, consider a waste disposal with sound seal technology.
Mount material
During research for one of our blog posts (Waste King vs InSinkErator) we found that the material of the mount, attaching the disposal to your sink, also effects the amount of noise produced due to vibrations.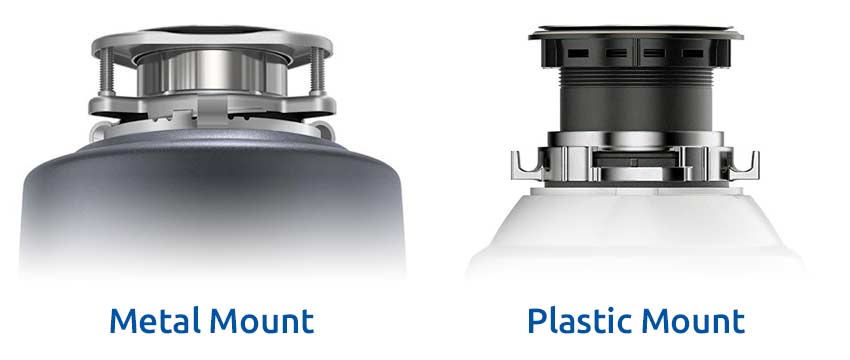 If the quietness of a garbage disposal is a deciding factor for you, we strongly recommend a disposal with a metal 3-bolt mounting system, and NOT one with a plastic EZ mount. The metal mount are much more solid and durable, which allows for less vibrations and therefore less noise, however it is also important that disposal is installed properly as installation can also be the cause of any extra vibrations.
Although build quality and the material of the mount are important factors in the amount of noise your disposal makes, there are also other accessories for garbage disposals, beside an EZ mount which may help muffle the noise, such as a sink baffle.
Video: InSinkErator garbage disposal with Anti Vibration

Build quality
The build material used to construct the body and motor of the disposal plays an important role in how much noise a disposal makes. High quality materials tend to be sturdier and will therefore vibrate less than flimsy poor-quality plastics. Therefore, if you want a quiet disposal, we recommend investing a little more in a higher-end disposal, such as those in the InSinkErator's Evolution line which is mostly made of metal instead of plastic.
Insulation technology
Whether your disposal features insulation technology or not has huge influence on how much noise the disposal produces. Manufacturers name this insulation technology SoundSeal or SoundShield, these insulation shields block most of the noise produced during use, however they also make the machine heavier and larger.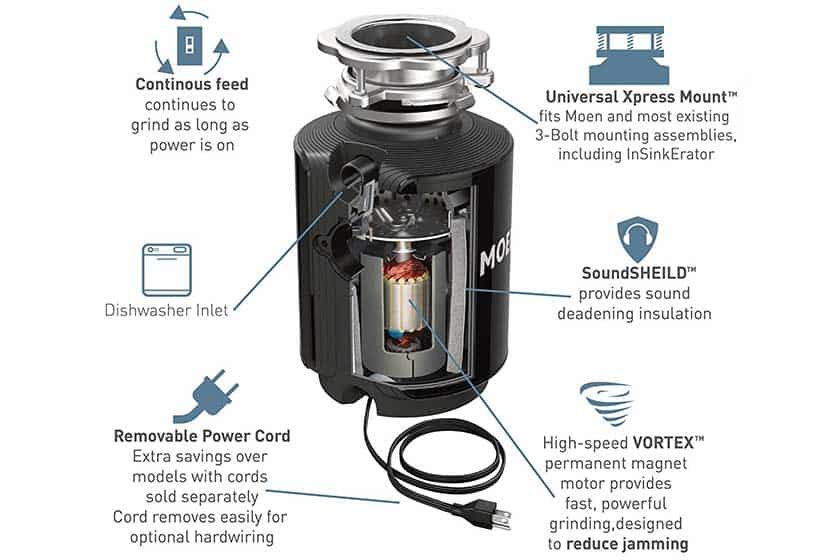 Therefore, you need to have enough space in your kitchen cabinet to install a sound-proofed garbage disposal. If you have enough space under your sink and you find it important to have a silent operating disposal then we strongly encourage you to choose a disposal with sound insulation technology.
Video: InSinkErator – Multi-Layer SoundLimiter™ Insulation

Continuous vs batched feed
Whether you have a batched or continuous feed disposal can also make a difference in the noise level. Although the difference will likely not be substantial the batch feed disposals are quieter, because you actually place a clog over the opening to the motor while the disposal is in use, which prevents noise escaping from your kitchen sink drain.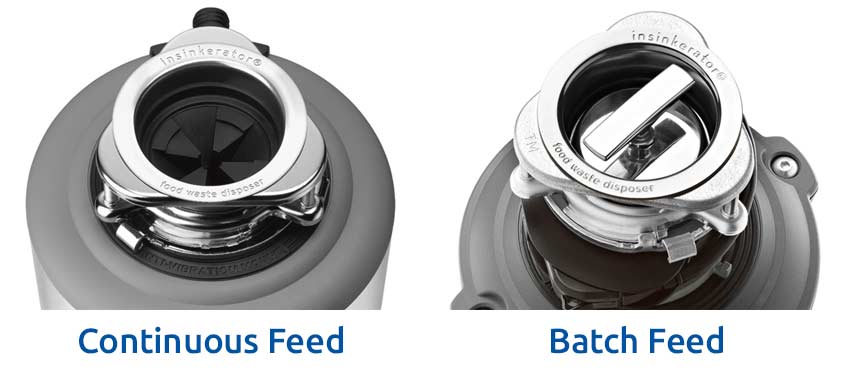 Power of motor
The power of the disposal's motor also plays a role in the level of noise the disposal produces during operation. Typically, a low-powered motor creates less noise. However we found that most high-powered disposal feature sound insulation to compensate for the extra noise, while low-powered ones do not. This leaves low-powered disposals with being insignificantly more noisy than high-powered disposals. Nevertheless, low-powered disposals still have the advantage of costing less, weighing less, and are usually taking up less space too. Meaning that they are ideal for households that want a quiet and budget-friendly disposal or have a kitchen with limited cabinet space.
---
Noise level comparison
Like we said in our introduction, the average garbage disposal, that is not sound insulated, generates around 80 decibels of noise during usage. The amount of noise a disposal makes while in use really depends on the type of disposal and whether or not the machine contains sound insulation. A soundproof garbage disposal lowers the noise level drastically, it can cut the amount of decibels even in half.
Noise source and decibel level
Whispering – 20 dB
Bird calls – 40 dB
Garbage disposal (insulated) – 45 dB
Office sounds – 60 dB
Garbage disposal – 80 dB
Dishwasher – 80 dB
Food blender – 90 dB
Lawn mower (powered) – 100 dB
Chain saw – 120 dB
---
This is what people say about silent garbage disposals
We have selected a few reasons why people like their quiet operating food waste disposer.
"I couldn't hear my InSinkErator as it is so quiet."
"I can barely hear the disposal over the running water."
"I love it for being unbelievable quiet and its vibration-free operation."
"Much more quiet than our old unit. The first time I was not even sure if it was working."
"My disposal is whisper quiet, except when it is chewing up bones."
"Our InSinkErator Evolution Excel is worth the expense when you want a quiet disposal."
---
So, is a quiet garbage disposal the right choice for you?
Overall, if having a quiet garbage disposal is important to you and your family, which is reasonable, you will need to make a choice between investing more money into the disposal or sacrificing on power and quality. With a high-end quiet disposal, you will also gain in durability and power, but you run the risk of your sink and cabinet not being able to support your disposals weight or size. While, with a low-powered quiet disposal you keep the benefit of low weight and small size but sacrifice power, leaving you with the constant question of "can my disposal handle this type of food waste?". This choice is up to you to decide.
Want to read more about garbage disposals? Read our guide here or check our recommended garbage disposals for home use.
---
Garbage Disposal Guide
Tips for buying a garbage disposal
Garbage Disposal Guide
---
Step Up:
Recycle

, Reuse &

Reduce

The three arrows of the recycling symbol represent the three main stages of the recycling process: recycling, reusing and reducing. Together the arrows form a closed loop. Step up and implement eco-friendly replacements in your daily life.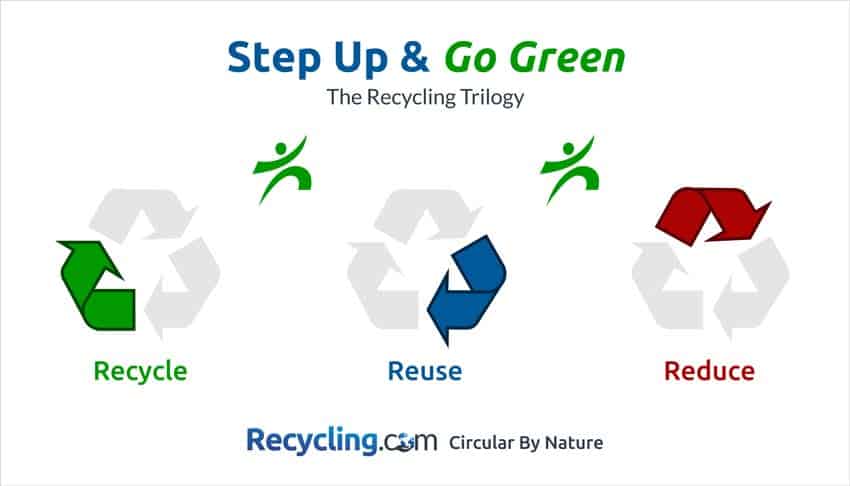 Join the movement! Step Up the waste hierarchy together to a goal of Zero Waste.