Best Powerful 1-HP Garbage Disposals
This page is part of the Garbage Disposal Guide.
Disclosure: This article contains affiliate links. If you click on a product and make a purchase, we may earn a commission – learn more.
Finding Your "Grind-All" Food Waste Disposal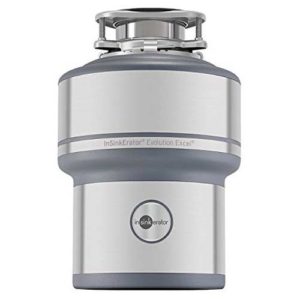 Are you tired of always being careful about what type of food scraps you can and can't put in your garbage disposal? Or are you just starting to look for your first garbage disposal and are wondering if a heavy-duty 1-HP one is worth the extra money? Then this article will help you understand the advantages and disadvantages of a powerful food waste disposal.
Best Sellers:
1-HP garbage disposals can even grind up tough food scraps like chicken bones.
When people want to purchase and install a kitchen sink disposal, most are looking for one that they can throw any type of food scrapes into without much thought. This is especially common in larger households with children. These types of carefree garbage disposals are heavy–duty and have a powerful 1-HP motor, that can grind-up pretty much any type of food waste.
Top 5 heavy-duty home-use garbage disposals
Below you can find a selection of our top 5 garbage disposals with 1-HP. These are not the only 1-HP options on the market, but we have selected these disposals from the best brands in the industry with high consumer satisfaction rates. If you want to know more about food waste disposals in general, then check out our main garbage disposal page. If you want to know more about why or when you should opt for a 1-HP disposals then you can read our short guide at the bottom of this page.
---
Best all-around heavy-duty garbage disposal.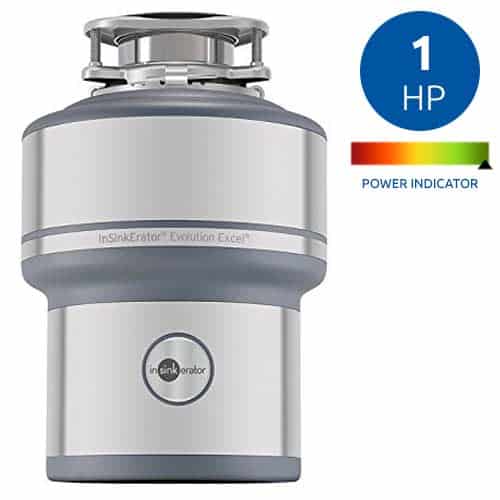 The InSinkErator Evolution Excel is the best all-around disposal with a 1-HP induction motor, no other disposal grinds more with less noise. It is the ideal disposal for larger family households or for heavy and demanding users. Thanks to the 1-HP single phase motor and high-quality material it allows you to quietly grind up almost any types of food waste, however these features makes it quite bulky. Nevertheless, this garbage disposal remains one of the most popular disposals because its great performance and durability. InSinkErator even provides the disposals with a 7-year warranty.
Feed type: Continuous feed
Horse power: 1 HP
Speed: 1725 RPM
Weight: 25.5 pounds
Warranty: 7-year
---
Best affordable 1-HP garbage disposal.
The Waste King L-8000 is the best "all-grind" garbage disposal for an affordable price. It features a 1-HP permanent magnet motor which starts up extremely fast and is highly reliable, therefore giving the machine a limited lifetime warranty. This disposal is ideal for family households or small office kitchens that don't mind a little noise while the device is being used. The Waste King comes with a pre-installed power cord, this makes the installation process even easier.
Feed type: Continuous feed
Horse power: 1 HP
Speed: 2800 RPM
Weight: 12 pounds
Warranty: 20-year
---
Best high capacity heavy-duty garbage disposal with 1.1-HP.
The InSinkErator Evolution Pro 1100XL is an extra heavy-duty waste disposal that features a 1.1-HP induction motor. Although one might think that the extra 0.1-HP does not make a difference, but this also allows the device to have a larger capacity than the standard home use disposal. This larger capacity allows the machine to operate quietly and more quickly than your average disposal, while it is also able to process particularly tough food scraps. These characteristics makes the Evolution Pro 1100XL extra robust and perfect for large households that want to process food scraps such as bones on a regular basis.
Feed type: Continuous feed
Horse power: 1.1 HP
Speed: 1725 RPM
Weight: 24.3 pounds
Warranty: 12-year
---
Best robust batched feed disposal.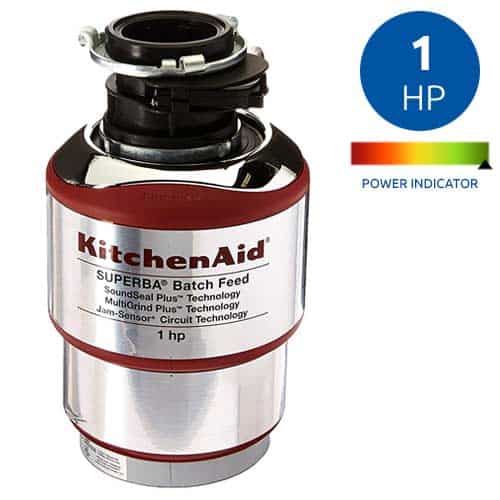 The KitchenAid KBDS100T is a 1-HP disposal with an induction motor and a robust exterior shell made of stainless steel. The disposal is very quiet during the use of its three grinding stages as it features sound seal plus technology which reduces noise significantly. This model is a batched feed disposal, making it perfect for families with small children, who value safety features. This means that the disposal will not activate until the drain opening is covered; eliminating the small danger of getting injured.
Feed type: Batched feed
Horse power: 1 HP
Speed: 1725 RPM
Weight: 24 pounds
Warranty: 7-year
---
Best 1-HP disposal under $70.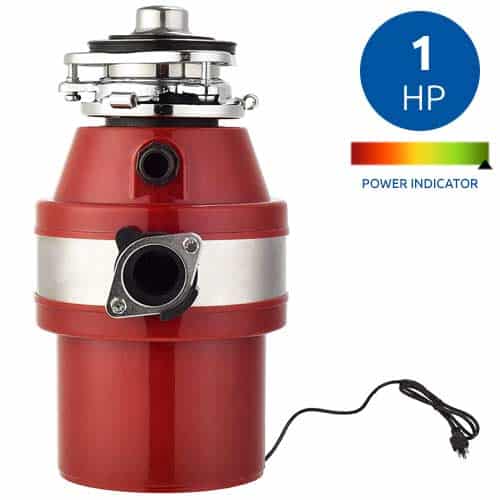 The KUPPET Garbage Disposal is a 1-HP waste disposal with a permanent magnet motor that claims to be quiet, made of high quality material, easy to assemble and has an expected life cycle of 10 years. Although the brand is not as well-known as Waste King or InSinkErator, it seems to be a good alternative, especially considering the price. If you don't want to spend a lot on a garbage disposal but you still want a powerful one, then this disposal is an option to consider.
Feed type: Continuous feed
Horse power: 1 HP
Speed: 2600 RPM
Weight: 12.8 pounds
Warranty: –
---
Garbage Disposal Guide
Tips for buying a garbage disposal
Garbage Disposal Guide
---
Step Up:
Recycle

, Reuse &

Reduce

The three arrows of the recycling symbol represent the three main stages of the recycling process: recycling, reusing and reducing. Together the arrows form a closed loop. Step up and implement eco-friendly replacements in your daily life.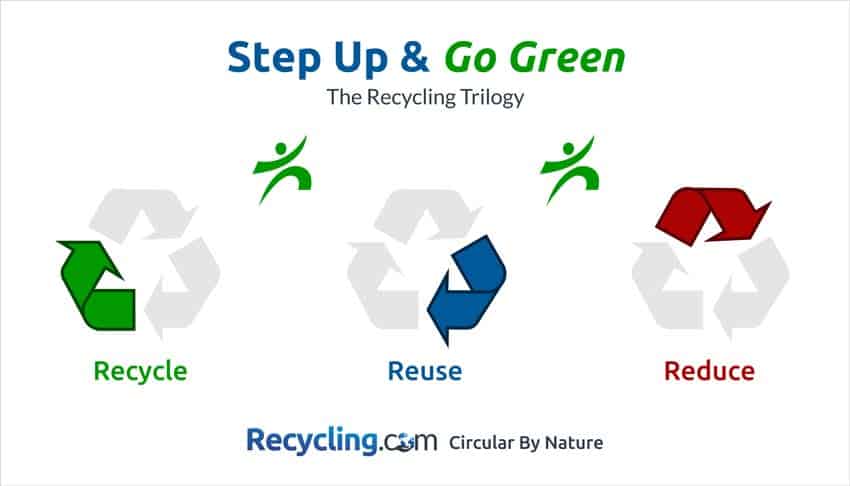 Join the movement! Step Up the waste hierarchy together to a goal of Zero Waste.