Best Garbage Disposals for Home
This page is part of the Garbage Disposal Guide.
Disclosure: This article contains affiliate links. If you click on a product and make a purchase, we may earn a commission – learn more.
Grind Food Scraps Under Your Kitchen Sink
What to do with biodegradable food waste at your household? An efficient and hygienic way to dispose of food and kitchen scraps is to use a garbage disposal under the sink.
This device grinds up your organic waste so it can be flushed away down the drain. The disposal can be installed in one of your kitchen cabinets at home or the office.
Popular Garbage Disposers:
---
Top Rated Garbage Disposals
Below you find our recommendation for reliable food waste disposals for light-use, medium-use and heavy-use. Also we recommend residential disposals with special features such as disposals for septic systems, farmhouse sinks and for small kitchen cabinets.
Most of the kitchen waste disposals are continuous feed. This means that you can feed kitchen scraps continuously into the device without the need to close or cover up of the sink opening. But when you seek more safety we recommend a batch feed disposal that is closed off during operation.
---
#1 | InSinkErator Evolution Excel
Best 1 HP garbage disposal for heavy-duty use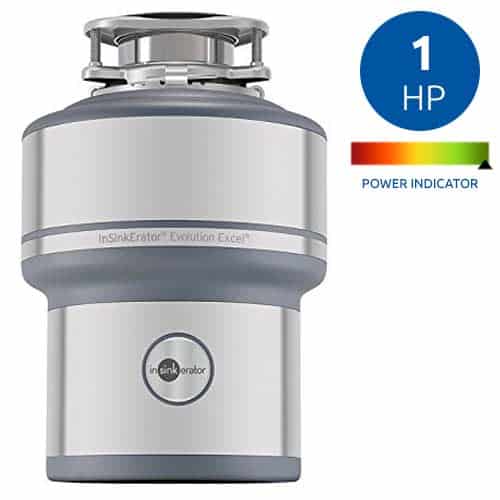 #1 Amazon's Choice
The InSinkErator Evolution Excel (Amazon) is a powerful disposer with three grind stages. This means that this disposal unit can grind up pretty much any type of food waste, even tough and fibrous food scraps. Besides this machine is powerful it is also ultra-quiet because of the SoundSeal technology. Installation is easy with the quick lock mount system, you only need to attach the power cord yourself. The Evolution Excel features a jam-sensor which eliminates jams by increasing the torque with 500%.
Feed type: Continuous feed
Horse power: 1 HP
Speed: 1725 RPM
Weight: 25.5 pounds
Warranty: 7-year
---
#2 | Waste King L-8000
Affordable 1 HP garbage disposal for heavy-duty use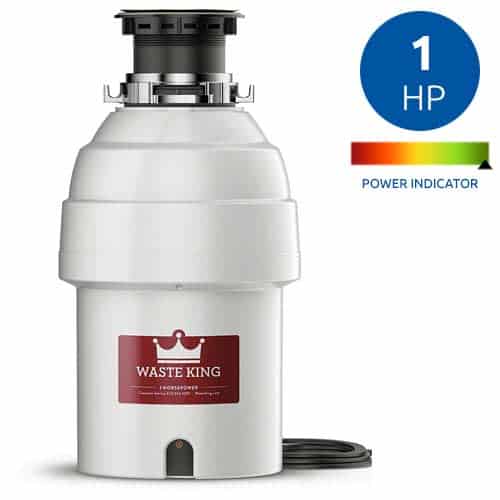 The Waste King L-8000 (Amazon) is a high-speed and powerful food waste disposal for heavy-duty use at home or office. The 1 HP motor grinds up your food scraps in a matter of seconds. With the EZ Mount you install the disposer quick and easy in your kitchen cabinet. The downside of the mount is that it is made of plastic. The device comes with a pre-installed power cord which makes installation even more convenient. The Waste King has a sleek design which saves up space.
Feed type: Continuous feed
Horse power: 1 HP
Speed: 2800 RPM
Weight: 11.9 pounds
Warranty: Limited lifetime
---
#3 | Moen GXS75C GX Series
Best 3/4 HP garbage disposal for medium-duty use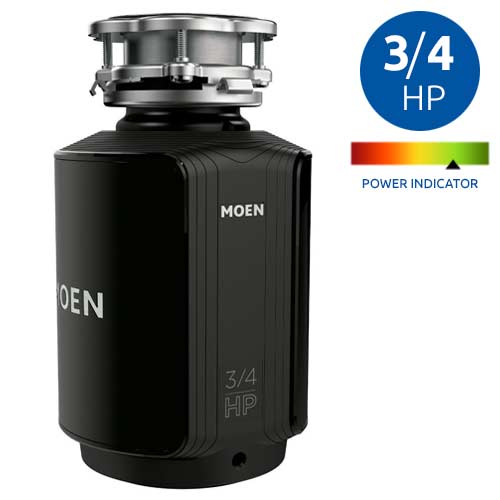 The Moen GXS75C GX Series (Amazon) is a powerful food waste disposer thanks to the permanent magnet motor. This means that the motor is at full speed when it is turned on. The vortex motor also helps reducing possible jams. Install the Moen disposer easily with the three-bolt mounting system, which means you only have to twist-and-lock the device under the sink drain. The garbage disposal is fairly compact and due to the sound isolation it reduces lots of noise.
Feed type: Continuous feed
Horse power: 3/4 HP
Speed: 2700 RPM
Weight: 7.75 pounds
Warranty: 5-year
---
#4 | InSinkErator Badger 5
Best 1/2 HP garbage disposal for medium-duty use
The InSinkErator Badger 5 (Amazon) is an easy to install food waste disposer. The unit comes with a pre-installed power cord, which isn't always the case with InSinkErator devices. The quick lock sink mount is made of metal and makes it convenient to connect it to your sink. The Badger 5 is mainenance-free and the motor is powerful enough for grinding food scraps like fruit and vegetable peels.
Feed type: Continuous feed
Horse power: 1/2 HP
Speed: 1725 RPM
Weight: 14.2 pounds
Warranty: 2-year
---
#5 | Waste King 9910
Best 1/3 HP garbage disposal for light-duty use

The Waste King 9910 (Amazon) is a light-duty garbage disposal for 1 to 2 users. The disposal comes with a pre-installed power cord, so electrical knowledge isn't necessary when installing this device. The Waste King is quiet in operation thanks to the sound insulation. The mount is all-metal, instead of plastic, this makes it a very durable and solid disposer.
Feed type: Continuous feed
Horse power: 1/3 HP
Speed: 1900 RPM
Weight: 8.6 pounds
Warranty: 2-year
---
#6 | InSinkErator Evolution Septic Assist
Best garbage disposal for septic systems

The InSinkErator Evolution Septic Assist (Amazon) is a unique garbage disposal that is optimized for homes with septic systems. This unit adds an automatic injection of enzyme-producing microorganisms to the food waste that helps break down the food particles much quicker in your septic tank. The problem with standard disposals is that the bacteria inside the septic tank sometimes can't digest the food waste fast enough, which will cause loads of food sludge in the septic tank. This InSinkErator is quiet and powerful thanks to the 3/4 HP motor.
Tip: Order extra Bio-Charge Cartridge replacements here (Amazon).
Feed type: Continuous feed
Horse power: 3/4 HP
Speed: 1725 RPM
Weight: 22.6 pounds
Warranty: 4-year
---
#7 | InSinkErator Evolution Compact
Best food waste disposal for deep farmhouse sink

The InSinkErator Evolution Compact (Amazon) is a compact (12 1/8 inches tall) but powerful garbage disposal which can be used for deep sinks, such as farmhouse sinks. These large and heavy sinks take up quiet some under-sink space in your kitchen cabinet, so you need a compact and space efficient disposal that can also connect to your sink. It is possible that you need a extended sink flange to connect the InSinkErator to your farmhouse sink. The Evolution Compact is quiet, powerful and durable.
Tip: Check if you need an extended sink flange (Amazon).
Feed type: Continuous feed
Horse power: 3/4 HP
Speed: 1725 RPM
Weight: 19.6 pounds
Warranty: 4-year
---
#8 | Kuppet Garbage Disposal
Best alternative brand with air switch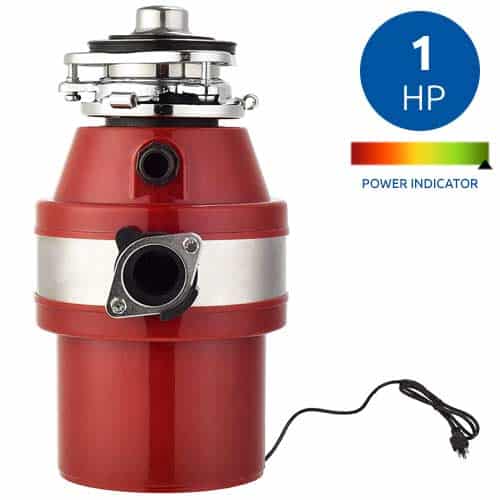 The Kuppet Garbage Disposal (Amazon) is a 1-HP waste disposal with a permanent magnet motor that claims to be quiet, made of high quality material, easy to assemble and has an expected life cycle of 10 years. Although the brand is not as well-known as Waste King or InSinkErator, it seems to be a good alternative, especially considering the price. If you don't want to spend a lot on a garbage disposal but you still want a powerful one, then this disposal is an option to consider.
Feed type: Continuous feed
Horse power: 1 HP
Speed: 2600 RPM
Weight: 12.8 pounds
Warranty: –
---
#9 | InSinkErator Cover Control Plus Evolution
Best batch feed garbage disposal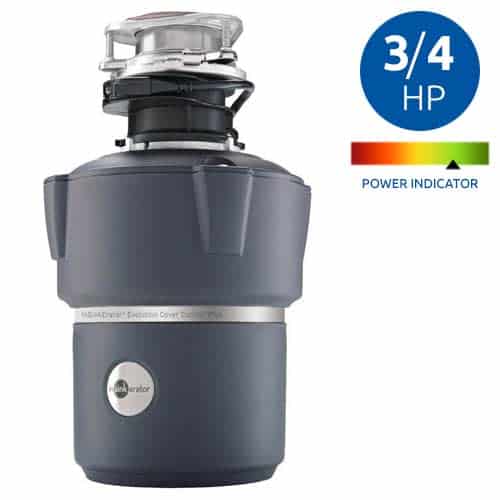 The InSinkErator Cover Control Plus Evolution (Amazon) is a batch feed garbage disposal, which operates very quiet. This means that you need to close the sink opening with a cover to activate the motor of the disposer. You can only grind your biodegradable food waste in batches because you can't add additional food waste while the disposal is covered and processing. The grinding of the food waste goes quickly thanks to the two-stage grinding inside the 40 oz grind chamber.
Feed type: Batch feed
Horse power: 3/4 HP
Speed: 1725 RPM
Weight: 22.4 pounds
Warranty: 7-year
---
#10 | Waste King L-3200
Best compact & durable food waste disposal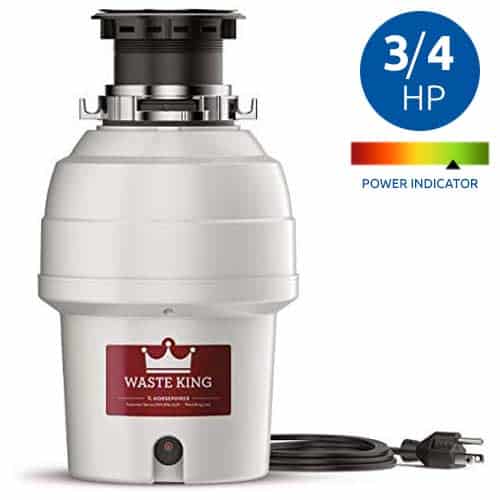 The Waste King L-3200 (Amazon) is a very compact and budget-friendly (under $100) garbage disposal. When you don't have a lot of space under your sink or in your kitchen cabinet this disposer might be the one you are looking for. The Waste King is easy to install and can also be connected to your dishwasher. Although the garbage disposal is small, it still packs a 3/4 HP magnetic motor. Therefore this continuous feed Waste King disposer is also recommended for smaller households.
Feed type: Continuous feed
Horse power: 3/4 HP
Speed: 2700 RPM
Weight: 8,6 pounds
Warranty: 8-year
---
A garbage disposal helps separating organic waste streams in the kitchen which enhances recycling.
---
Which garbage disposal suits your needs?
First, what is a garbage disposal exactly? A garbage disposal is an electronic device, also known as a food or under-sink compactor, that grinds up biodegradable food waste and scraps under your sink. Then the food particles are flushed away with water down to drain. The disposer is installed inside one of your kitchen cabinets and sits between the sink drain and the drain pipe.
It is important to install a disposer with the right capacity that suits the number of users and the type of organic kitchen waste you want to dispose of. For soft fruit peels, you can use a light disposer, but for fibrous and tough food scraps you need a disposer with more horsepower.
Besides the amount of horsepower you also need to decide if you want a continuous feed or batch feed garbage disposal. The difference is that continuous feed disposals can grind food waste continuously, while a batch feed disposal only grinds up kitchen scraps when the sink opening is covered and closed off.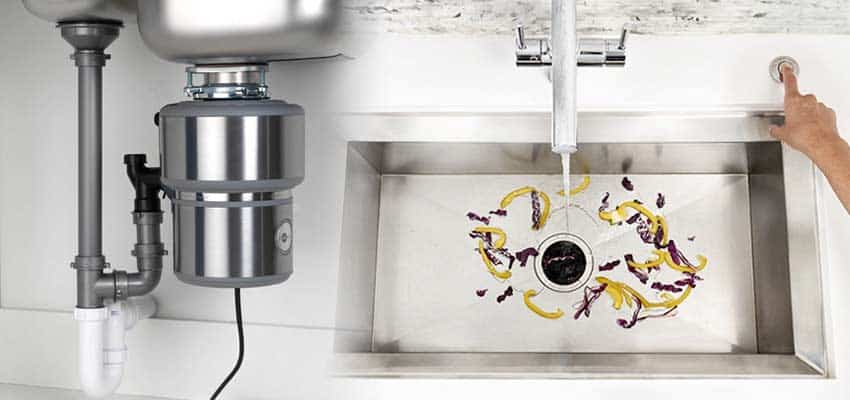 When you are looking for a food waste disposer for your kitchen there are a few things to consider.
What is your budget?
How much horse power do you need?
Batch feed or continuous feed?
What type of mounting system and which material (metal or plastic)?
Will the device fit under your sink?
Do you want to connect it to a dishwasher?
Do you have a septic tank?
The ease of installation.
Manufacturers of food waste disposers
What are the best brands for garbage disposals? Find the current Amazon product listings from popular manufacturers of food waste disposals and visit the official websites.
Most popular brands on Amazon
Below you can directly see the product listings from brands like InSinkErator, Waste King, Moen and KitchenAid.
Whisper quiet disposal?
Do you prefer a quietly operating disposal, then consider a garbage disposal with sound insulation. These type of disposers run very quietly so you don't disturb anyone while you grind up against you food waste. See our recommendations for quiet garbage disposals here.
Food waste and the environment
Food waste you throw in your garbage usually ends up in landfills. Inside this mountain of trash there is almost no oxygen which causes your food waste to start releasing methane gas as it decomposes. This methane gas when it is eventually released into the open is harmful to the environment. Because of how harmful it is to the environment an effort is been made by landfills to capture this gas. This so-called 'landfill gas' (LFG) can, after it is captured be converted and used as a source for renewable energy.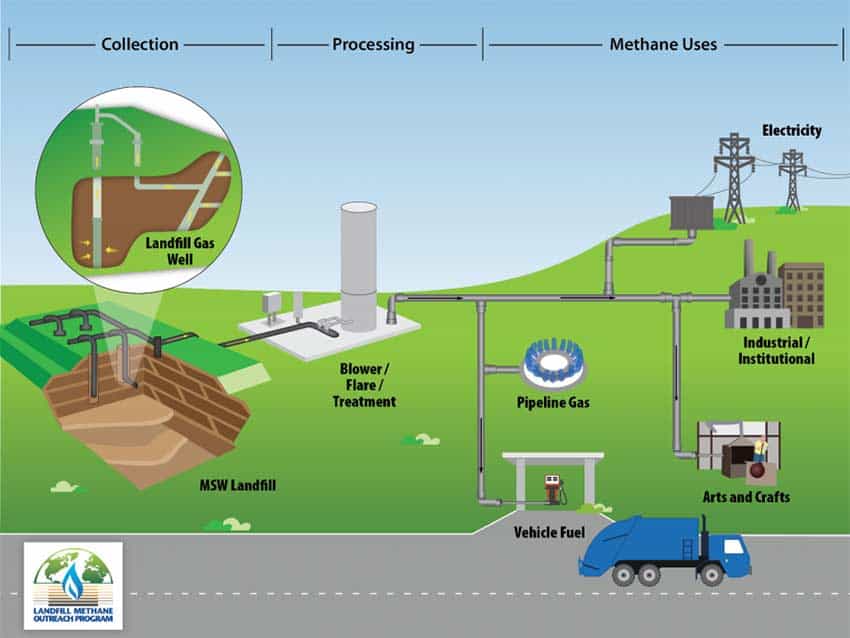 However, it is extremely difficult to capture all of this gas that is released on our vast and rapidly growing trash mountain ranges. But when you use a garbage disposal to discard of your food scraps, which will eventually start releasing methane gas, the food waste ends up in the sewer system. These biodegradable food waste particles will, along with the water used to flush them away, end up in wastewater treatment plants (WWTP). While the sewer system transports your food waste to WWTP much quicker than fuel-guzzling garbage trucks can transport your trash bags to the land, these WWT plants also captured the methane gas, released by your food waste, more efficiently than a landfill is able to.
Did you know? A typical household throws away over 470 pounds of food waste every year.
Therefore, the methane gas can be converted to biogas more quickly, and can then be used as a green energy source for something like electricity and heating. But it gets better, not only can your flushed away food scraps be used to make green energy, but the WWTP can also filter and use the concentrated food waste remains, also called biosolids, as fertilizer products.
In the end, one thing is certain, throwing your leftovers in your garbage disposal is better than throwing them in the normal trash. There may be better possibilities such as composting, but this opportunity is not ideal either and is certainly not an option that everyone can implement, especially if you live in an urban area.
If you'd like to know more about garbage disposals and their impact on the environment this article may interest you.
See how food waste is recycled
Garbage disposal installation service
Do you need professional help in installing your new garbage disposal? Or do you want to replace your old one for a new disposal but don't know how to do this yourself? Then you can hire an expert in your area via Amazon.
Find garbage disposal installation professionals over at Amazon.
Best Sellers:
---
Garbage Disposal Guide
Tips for buying a garbage disposal
Garbage Disposal Guide
---
Step Up:
Recycle

, Reuse &

Reduce

The three arrows of the recycling symbol represent the three main stages of the recycling process: recycling, reusing and reducing. Together the arrows form a closed loop. Step up and implement eco-friendly replacements in your daily life.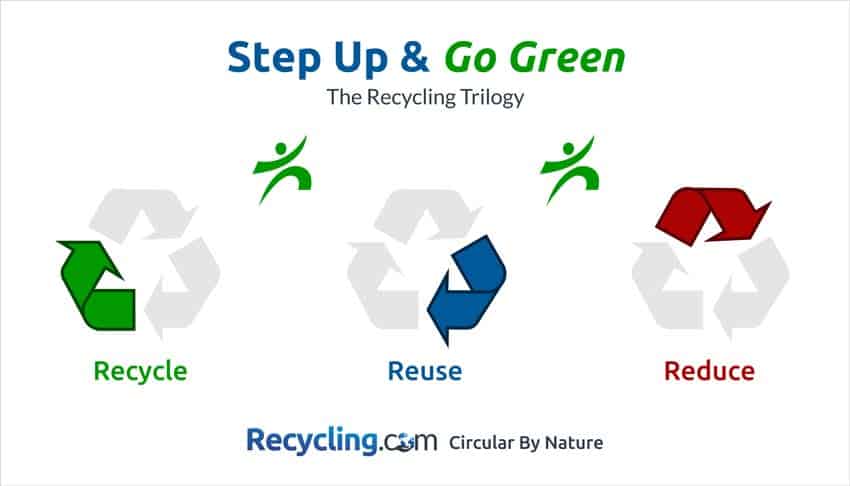 Join the movement! Step Up the waste hierarchy together to a goal of Zero Waste.
By Recycling.com/ 2 June 2020 Shares