Best Garbage Disposals for Home
Grind Food Scraps Under Your Kitchen Sink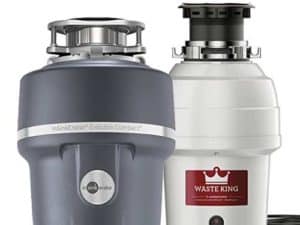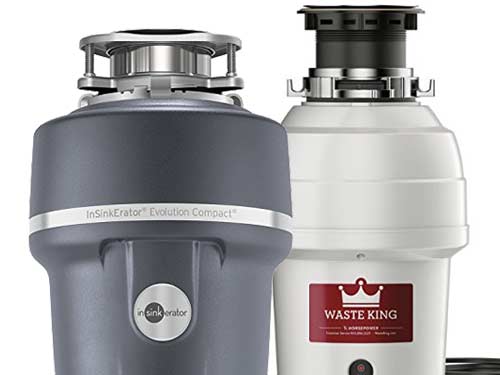 What to do with biodegradable food waste at your household? An efficient and hygienic way to dispose food scraps is with a garbage disposal under the sink. This device can be installed in the kitchen cabinet at home, but also in the kitchen from your office's canteen.
A garbage disposal helps separating waste streams in the kitchen which enhances recycling.
Top 5 Disposals for Kitchen Sinks
Below you can find our recommendation for the best food waste disposals for light use, medium use and heavy use. All of the kitchen waste disposals are continuous feed. This means that you can feed kitchen scraps continuously into the device without the need to close or cover up of the sink opening.
---
Best 1 HP garbage disposal for heavy-duty use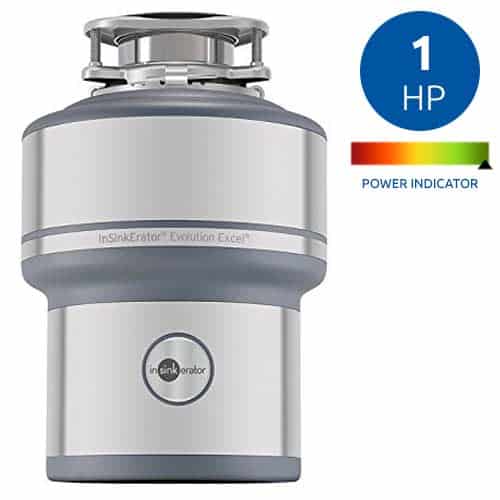 The InSinkErator Evolution Excel is a powerful disposer with three grind stages. This means that this disposal unit can grind up pretty much any type of food waste, even tough and fibrous food scraps. Besides this machine is powerful it is also ultra-quiet because of the SoundSeal technology. Installation is easy with the quick lock mount system, you only need to attach the power cord yourself. The Evolution Excel features a jam-sensor which eliminates jams by increasing the torque with 500%.
Feed type: Continuous feed
Horse power: X HP
Speed: 1725 RPM
Weight: 25.5 pounds
Warranty: 7-year
---
Affordable 1 HP garbage disposal for heavy-duty use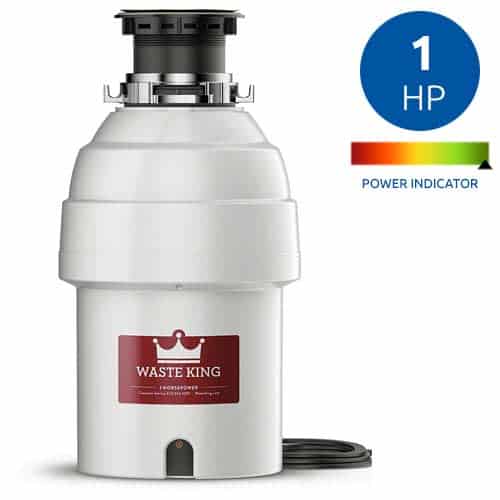 The Waste King L-8000 is a high-speed and powerful food waste disposal for heavy-duty use at home or office. The 1 HP motor grinds up your food scraps in a matter of seconds. With the EZ Mount you install the disposer quick and easy in your kitchen cabinet. The downside of the mount is that it is made of plastic. The device comes with a pre-installed power cord which makes installation even more convenient. The Waste King has a sleek design which saves up space.
Feed type: Continuous feed
Horse power: 1 HP
Speed: 2800 RPM
Weight: 11.9 pounds
Warranty: Lifetime
---
Best 3/4 HP garbage disposal for medium-duty use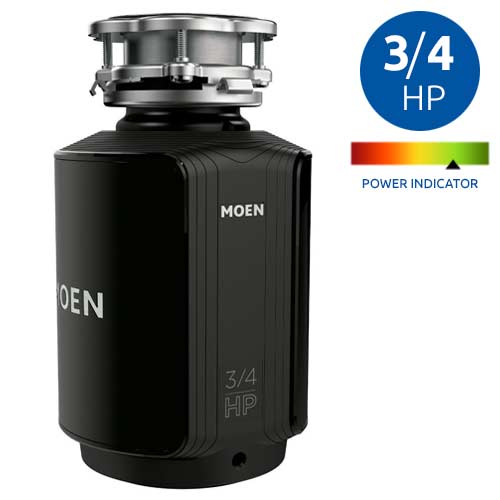 The Moen GXS75C GX Series is a powerful food waste disposer thanks to the permanent magnet motor. This means that the motor is at full speed when it is turned on. The vortex motor also helps reducing possible jams. Install the Moen disposer easily with the three-bolt mounting system, which means you only have to twist-and-lock the device under the sink drain. The garbage disposal is fairly compact and due to the sound isolation it reduces lots of noise.
Feed type: Continuous feed
Horse power: 3/4 HP
Speed: 2700 RPM
Weight: 7.75 pounds
Warranty: 5-year
---
Best 1/2 HP garbage disposal for medium-duty use
The InSinkErator Badger 5 is an easy to install food waste disposer. The unit comes with a pre-installed power cord, which isn't always the case with InSinkErator devices. The quick lock sink mount is made of metal and makes it convenient to connect it to your sink. The Badger 5 is mainenance-free and the motor is powerful enough for grinding food scraps like fruit and vegetable peels.
Feed type: Continuous feed
Horse power: 1/2 HP
Speed: 1725 RPM
Weight: 14.2 pounds
Warranty: 2-year
---
Best 1/3 HP garbage disposal for light-duty use

The Waste King 9910 is a light-duty garbage disposal for 1 to 2 users. The disposal comes with a pre-installed power cord, so electrical knowledge isn't necessary when installing this device. The Waste King is quiet in operation thanks to the sound insulation. The mount is all-metal, instead of plastic, this makes it a very durable and solid disposer.
Feed type: Continuous feed
Horse power: 1/3 HP
Speed: 1900 RPM
Weight: 8.6 pounds
Warranty: 2-year
---
Compare sink garbage disposals
In the table below you can find more recommended and high-rated food waste disposals. Sort the columns of the table to find your best disposer. Please note that this table scrolls horizontally (for mobile users).
---
More about household garbage disposals
A garbage disposal incinerator grinds up your food waste directly under your sink. The food particles are then flushed away down the drain. It is important to install a disposer with the right capacity that suits the number of users and the type of organic kitchen waste you want to dispose. For fruit peels you can use a light disposer, but for fibrous and tough food scraps you need a disposer with more horse power. Besides that you also need to decide if you want a continuous feed or batch feed garbage disposal.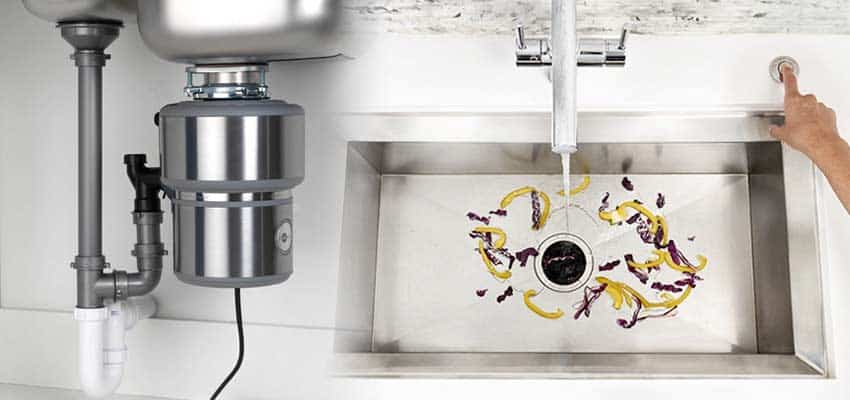 In the U.S. 50 percent of all homes have a waste disposal in the kitchen installed.
When you are looking for a food waste disposer for your kitchen there are a few things to consider.
What is your budget?
How much horse power do you need?
Batch feed or continuous feed?
What type of mounting system and which material (metal or plastic)?
Will the device fit under your sink?
Do you want to connect it to a dishwasher?
Do you have a septic tank?
The ease of installation.
Read more details in our garbage disposal guide here.
How much horse power do you need?
Garbage disposals for consumers can be categorized in roughly three categories:
Light use:  1/3 HP
Medium use: 1/2 – 3/4 HP
Heavy use: 1 HP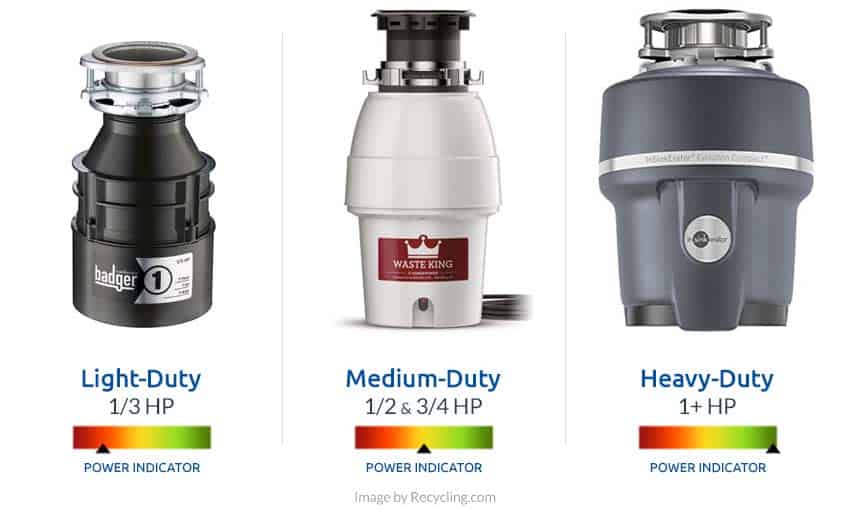 For medium use it is recommended to get a 3/4 HP food waste disposer when you cook daily. When you don't cook that often a 1/2 HP disposal unit is good enough for medium-duty use.

Light-Duty

---
Horse  power

1/3 HP
---
Average RPM

+/- 2000 RPM
---
Users
1 – 2 users
---
Food Waste

Soft food scraps like fruit rinds.
---

Medium-Duty
---
Horse power

1/2 to 3/4 HP
---
Average RPM

+/- 2200 RPM
---
Users
2 – 4 users
---
Food Waste

Food scraps like potato peels.
---

Heavy-Duty
---
Horse power

1+ HP
---
Average RPM

+/- 2500 RPM
---
Users
4 – 8 users
---
Food Waste

All food scraps like fibrous foods.
---
Video: How does a InSinkErator garbage disposal works?
How much does it cost?
What is the average price of a garbage disposal? The cost of a disposal unit depends on the type of disposal (continuous or batch feed), the power of the motor and the built quality. See a price comparison of garbage disposals from popular brands below:
Can you use a garbage disposal in an office kitchen?
Most garbage disposals are used at home in the kitchen. But you can also install and use a food waste disposal unit in the office canteen or office kitchen. The device encourages employees to become more aware of separating biodegradable food waste.
Please note: Before using a food waste disposal it is recommended to investigate the (local) law and legislation if it is approved to make use of a garbage disposal in an professional environment.
Some offices have a small kitchen where employees grab a cup of coffee, a glass of water or prepare their lunch. This is a centralized area in the office where lots of food waste is generated. Think about banana peels, apple cores, food scraps from lunch and other biodegradable food waste.
A food waste disposal helps to enhance the overall quality of separated recyclable materials.
You can of course separate the food waste with a dedicated recycling bin or composting bin. But food waste can release bad odor over time and this can cause nuisance when the office kitchen is literally part of your office workspace. A better solution for disposing biodegradable food waste is to make use of a food waste disposer. With this machine grind up food waste convenient, fast and hygienic. A disposers helps you and your employees to separate food waste at the office and it contributes in even cleaner and dryer recyclable waste streams.
Manufacturers of food waste disposers
What are the best brands for garbage disposals? Below you can find a list with the official websites from well-known and popular brands:
---
Step Up:
Recycle

, Reuse &

Reduce

The three arrows of the recycling symbol represent the three main stages of the recycling process: recycling, reusing and reducing. Together the arrows form a closed loop. Step up and implement eco-friendly replacements in your daily life.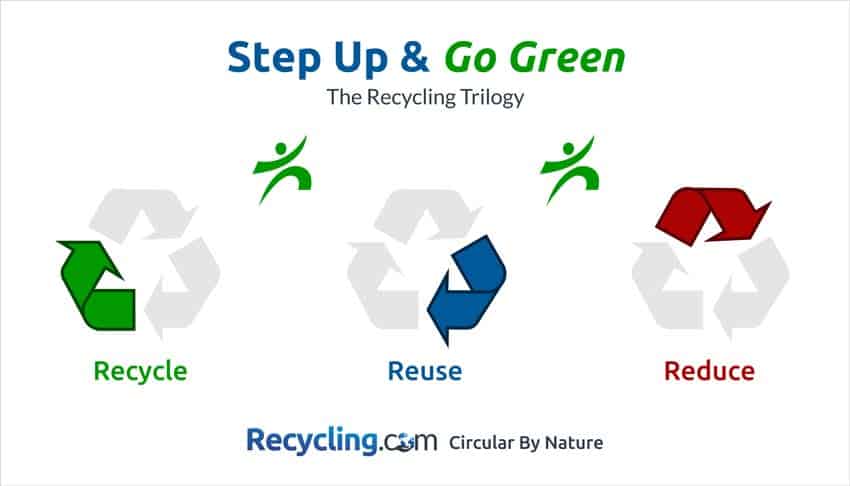 Join the movement! Step Up the waste hierarchy together to a goal of Zero Waste.