Recycling is the third step in the waste hierarchy or Lansink's Ladder, after the priorities initiated by the politician Ad Lansink in the Dutch parliament in 1979.
The waste management hierarchy indicates an order of preference for action to reduce and manage waste from most favourable to least favourable actions.
A proper application of the waste hierarchy in your work can help prevent emissions greenhouse gases, reduces pollutants , save energy, conserves resources, create jobs and stimulate the development of green technologies.
Climbing Lansink's Ladder
Challenge your colleagues and your local waste management company to climb Lansink's Ladder for a custom build solution specific for your work.
List of steps of Lansink's Waste Hierarchy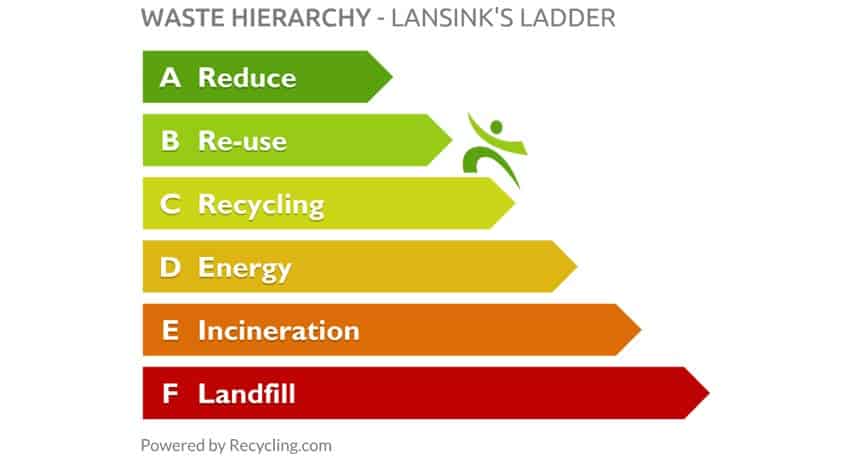 Reduce
Quantitative and qualitative prevention of waste.
---

Reuse
Reuse of used products and materials.
---

Recycling
Recycling of waste materials.
---
Energy
Generating energy from waste materials.
---

Incineration
Incineration as a disposal method of waste materials.
---

Landfill
A site for the disposal of waste materials.
---
Recycling for professionals
Global recycling markets & prices
Ferrous and non ferrous recycling prices
Paper recycling prices
Plastic recycling prices
General recycling prices
—
Find your recycling machinery on global marketplaces
—
Global recycling exhibitions & organisations
Recycling organisations
—
Recycling news
By Recycling.com/ 16 June 2016 Shares