Download the Zero Waste symbol
Unlike the universal recycling logo, that has an international recognition, there are a lot of different versions used to symbolize the Zero Waste movement. This is the reason that for the launch of our new website, Recycling.com in july 2016, we decided to make our own unique interpretation.
Our version of the Zero Waste symbol or logo is free to use. You can download the zero waste logo below in different file formats.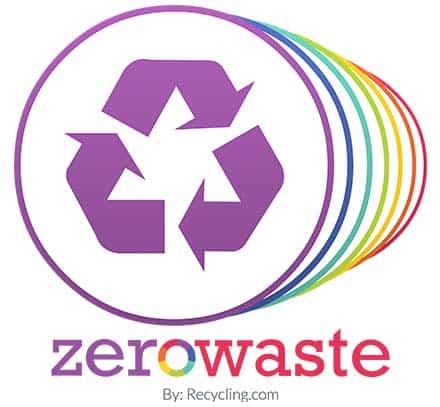 Zero Waste Symbol + Text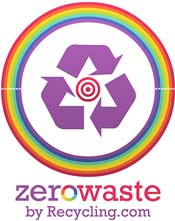 Download file format:
This version of the Zero Waste logo is free for non commericial use.
---
Zero Waste Symbol – No Text
This version of the Zero Waste logo is in the public domain and free to use.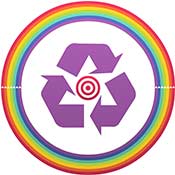 ---
"If the highest aim of a captain were to preserve his ship, he would keep it in port forever."
– Thomas Aquinas
tweet this quote
Background of our Zero Waste logo
From the four elements the Zero Waste movement wants to eliminate fire (incineration) and earth (landfill). The Rainbow is the symbol for the two remaining elements water and light.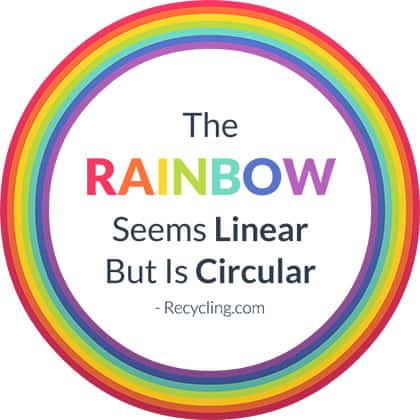 The Rainbow seems linear but is in fact circular (source: Wikipedia), depending on our point of view. We also have to change our point of view going from a linear end-to-end to a circular full circle economy. The pot of gold of landfill is not the end of the rainbow but the real pot is inside and is clean water supported by a circular recycling based economy.
Learn more about how rainbows work.
Video: Can you reach the end of a rainbow?
As seen in the Zero Waste Logo, recycling is in the core or negative space of the rainbow and is in the violet colour. We usually look as humans from the outside in but we have to change our view from the inside out. An average human adult male consists for an average 69% (source: Wikipedia) of water and we are refreshing ourselves with an average 1 – 3 liters of drinking water a day (source: Wikipedia). Clean water is vital for our future.

The prisms that reflect the sun in the water mark the horizon we have as the moving goal or ideal of the Zero Waste movement. We have to rethink our behaviour and to look beyond our own (in time limited) horizon and take away the limits of our view.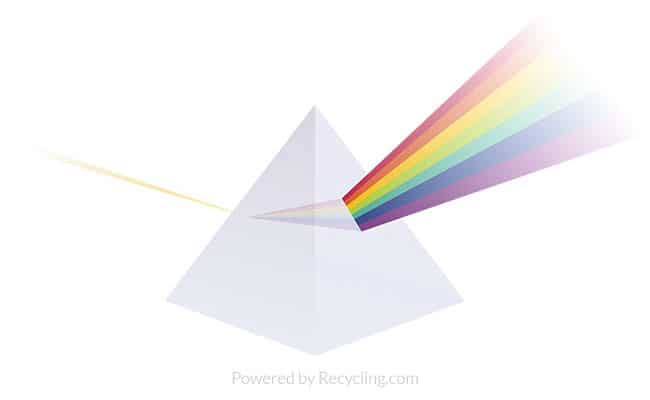 Closing the loops and 100% recycling figures as our shooting target in the full rainbow.
Violet is the goal
The emphasis in the word Zero Waste is on the colours of the rainbow in the double o or 0. Waste is red because according to the waste hierarchy and Zero Waste movement it has to be avoided and Zero is in violet because it is the goal.
We have to become aware that by polluting our oceans further we are finally poisoning our children.