The year 2041
Robert Swan is a polar explorer and the first man ever to walk unsupported to both the North and South Poles. He arrived with a team at the South Pole on 11 January 1986 and at the North Pole on 14 May 1989.
In 1996–97 he organised One Step Beyond, The South Pole Challenge. The mission was to remove and recycle 1,500 tons of waste that had been left at Bellingshausen station in Antarctica after decades of scientific research. As witness of the effect of human behaviour on our planets both poles Robert Swan wants to preserve Antarctica.
"The greatest threat to our planet is the belief that someone else will save it."
– Robert Swan
tweet this quote
In the year 2041, the Protocol on Environmental Protection to the Antarctic Treaty could potentially be modified or amended. The vision is to work towards the continuing protection of the Antarctic Treaty so that the last great wilderness on earth is never exploited. By informing, engaging and inspiring the next generation of leaders to take responsibility, be sustainable, and know that now is the time for action in policy development, sustainable business generation and future technologies.
More information
Official website
Facebook
Instagram
Twitter
Youtube
---
Clean planet video's
Robert Swan: Let's save the last pristine continent
2041 will be a pivotal year for our planet. That year will mark the end of a 50-year agreement to keep Antarctica free of exploitation.
---
Antarctica 2041 by Robert Swan
Adventurer turned environmentalist Robert Swan illuminates the perils facing the planet come 2041.
---
Book recommendations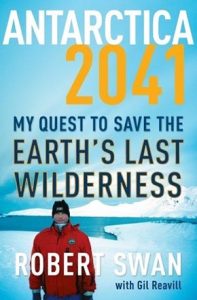 Antarctica 2041: My Quest to Save the Earth's Last Wilderness
– Written by: Robert Swan and Gil Reavill
Available as hardcover and ebook.
Hardcover: 304 pages
ISBN-10: 0767931750
ISBN-13: 978-0767931755
---
Related articles